"Why fit in when you were born to stand out?"
Disability is neither a taboo nor a scar. It is nothing but a different ability. As per the 2011 Census, over 21 million people in India are disabled, accounting for 2.1 % of the total population of the country. People with disabilities have now been included in the mainstream, and they have accomplished themselves again and again in the economic and commercial space. Even the corporate has started paying attention to these people as there are quite a few reputed Indian businesses that hire differently-abled people in various roles and profiles.
The drive of companies for recruiting differently-abled people and including them in the mainstream is commendable and highly appreciable. The honorable Supreme Court instructed states to execute legislation on the Rights of Persons with Disabilities (PwD). The companies that pioneered this legislative norm surely stand out. Let us look at some of these businesses:-
1. Capgemini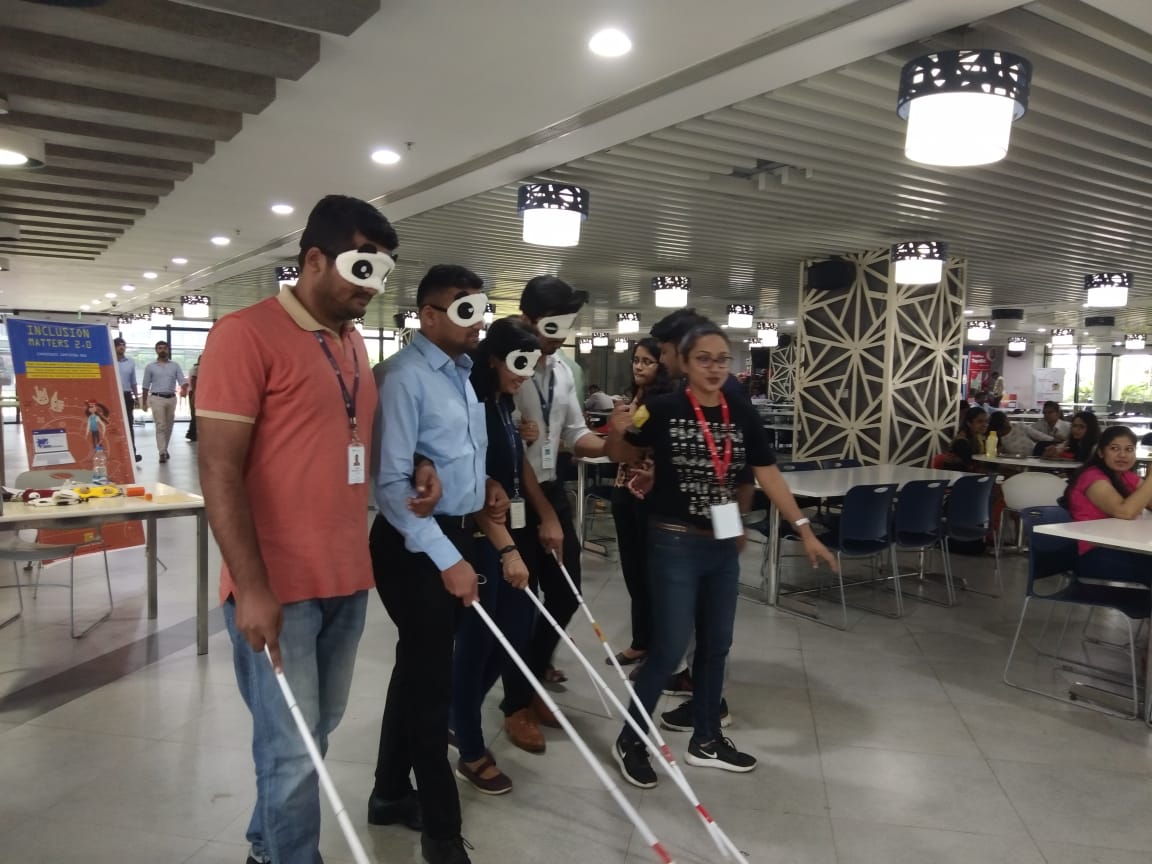 Capgemini started this driveway back in 2012 and currently has 200 disabled employees on board. People with speech, visual and hearing impairment, epilepsy, schizophrenia, and cerebral palsy work here in different profiles, such as tech support, recruitment, software development, admin, account processing, consulting, and various other support functions. The company believes that differently-abled people are way more hard workers, professionals, and skilled in every domain. Capgemini has a well-structured plan to introduce the inclusivity of these people in the organization. When a differently able person comes on board, special training is conducted for them, particularly sign language interpretation tr
aining for a couple of weeks.
Simultaneously, the existing neurotypical team members are also sensitized and trained accordingly. This helps in seamless integration in the teams, with peers and seniors.
2. KFC
KFC is another brand in India, known for recruiting huge numbers of differently-abled people in the business. Presently, they have 170 specially-abled workers across all the outlets in India. This fast-food chain conducts comprehensive training for the workforce on food safety and hygiene, life skills, communication, customer service, and critical thinking. This training runs over 11 weeks before the people are placed in various stores.
3. Lemon Tree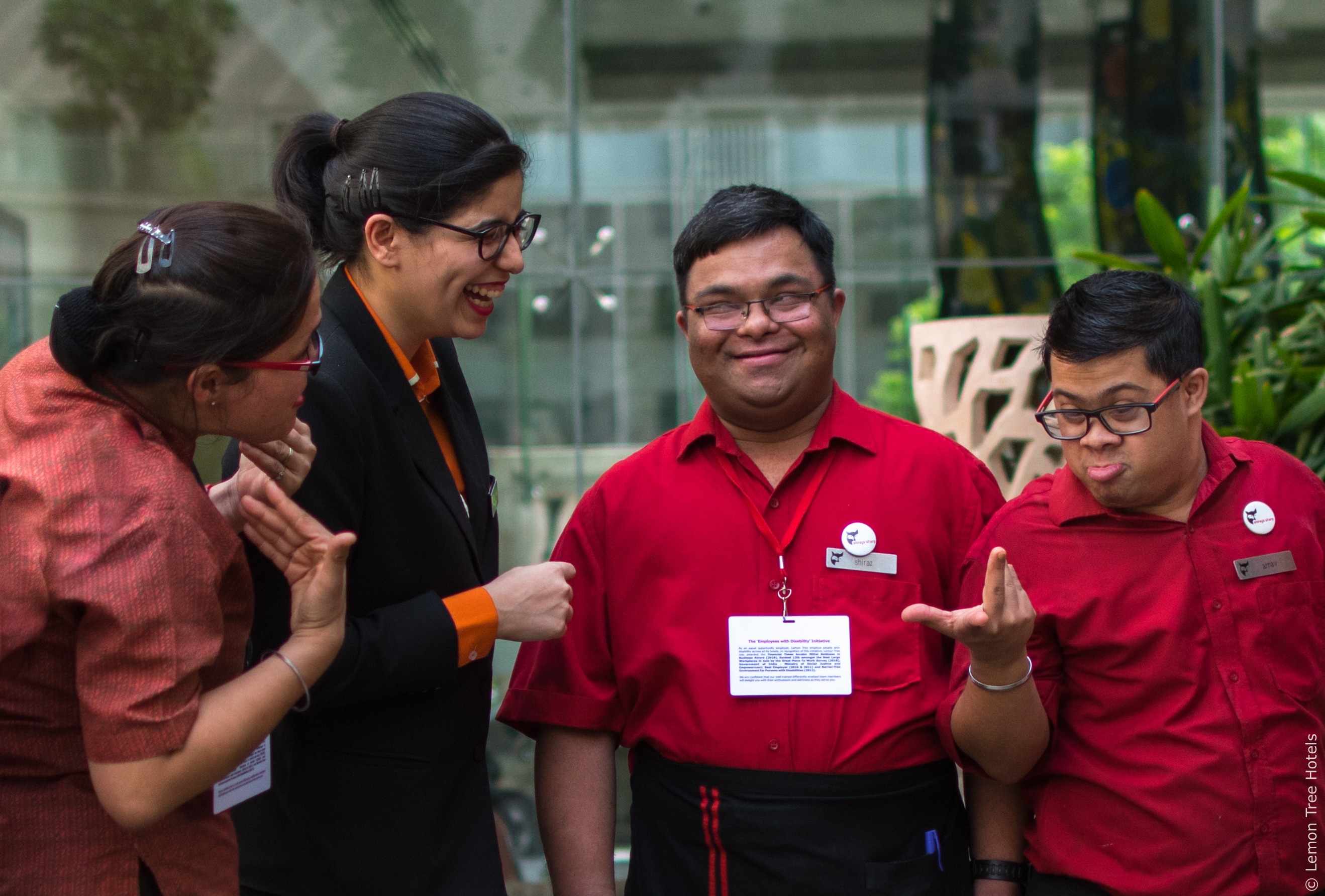 Along with food and technology, differently-abled people are hired in hospitality industries also. One such brand is Lemon Tree Group of Hotels, known for recruiting specially-abled people, particularly with speech, hearing disabilities, and Down syndromes in their business. They started this initiative way back in 2007, and currently, 13% of their staff are differently-abled. They believe that these people are hard-working professionals, quick learners, and are capable of acquiring new skills in no time. Lemon Tree conducts a 10-day training program called "'See, Smile, Greet,' to integrate them into the system. Staffs with speech and hearing impairments carry a notepad with them for a seamless communication while people suffering from down syndromes carry whistles with them, which acts as their panic bell.
4. Mirakle Couriers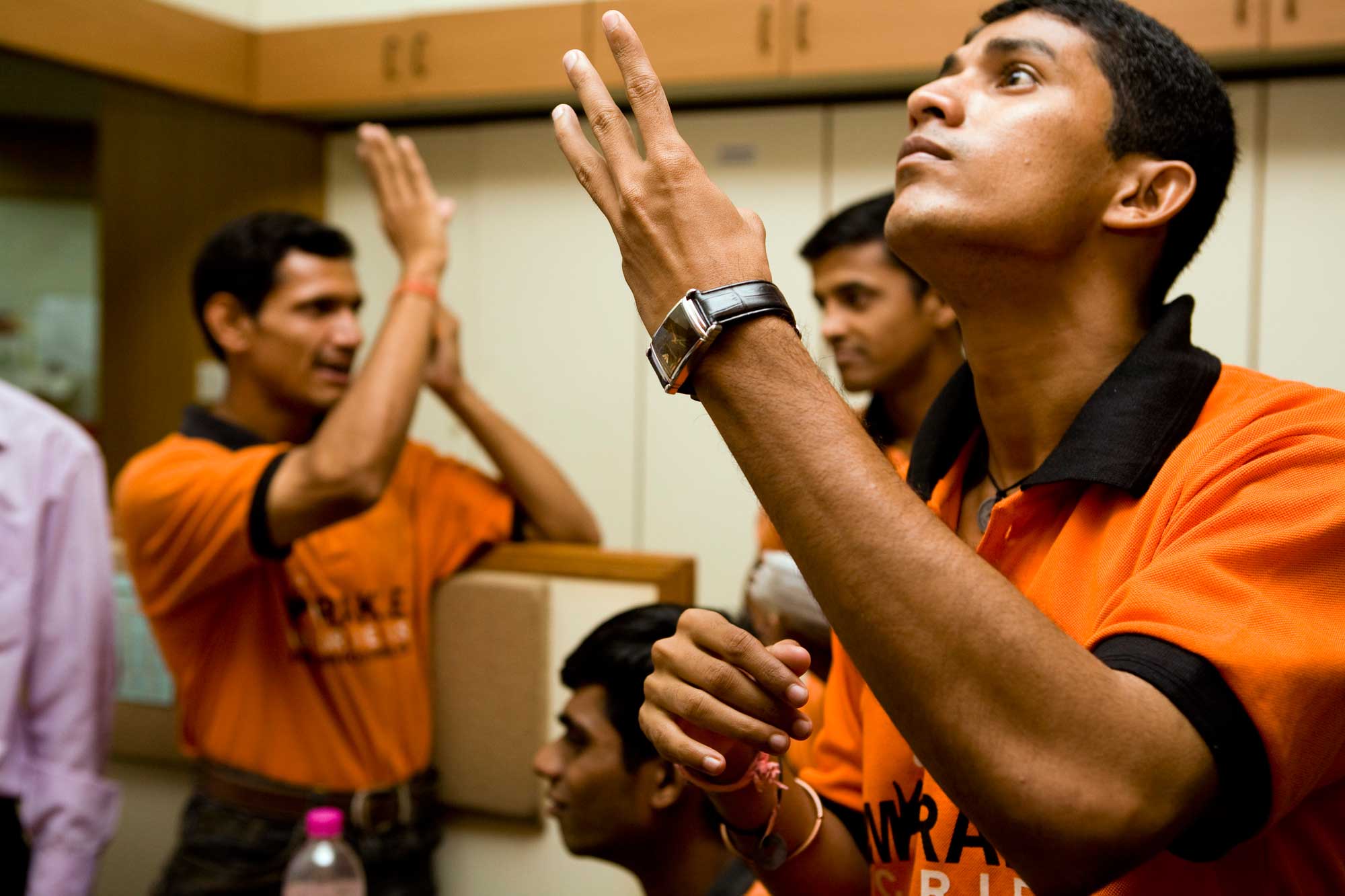 Founded in 2009 by Dhruv Lakra, Mirakle Couriers is a company of its own kind. They specialize in recruiting low-income deaf men and women for various roles like data entry tracking, scanning, calculations, sorting, and other support operations. Dhruv, the alumnus of HR College, Mumbai, and Oxford University, also engages these people in delivery operations as, according to him, they possess excellent map reading and direction retention skills. With presently 70 differently-abled staff on board, Mirakle Couriers successfully delivers 65,000 shipments in a month.
5. Nukkad Cafe
This is a small yet very vibrant venture by a promising entrepreneur, Priyank Patel. This cozy café is located in Bhilai in Chhattisgarh, and mostly hires people with visual and speech disabilities and people from the transgender community. Priyank trains his employees so that they can communicate in sign language and execute varieties of backend and supply chain functions.
6. Cafe Echoes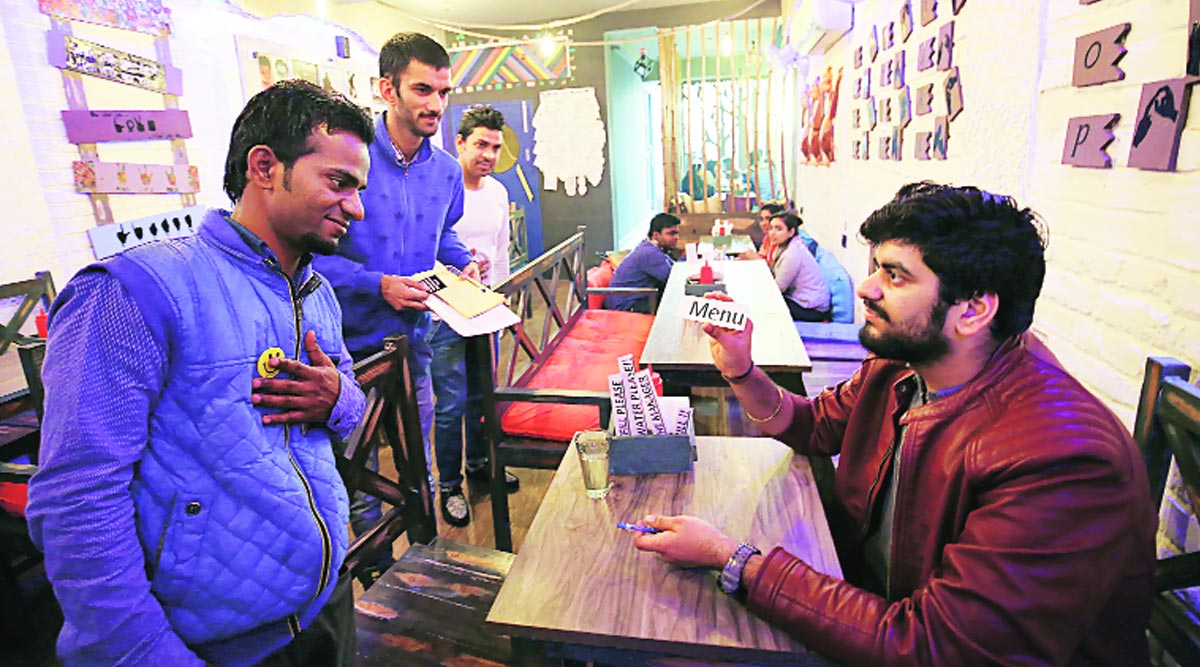 Echoes is a unique café in the Satya Niketan area of South Delhi. It is managed entirely by six speech and hearing-impaired waiters. The café welcomes everyone with a board that reads, "Eat, engages, energize with the café managed by differently-abled staff. Let's lead by actions together" and sensitizes every visitor about their specialties. For seamless communication with the customers, the waiters are trained to use the bells and the bulbs.
7. Accenture
Source: AccentureNot only start-ups, big brands like Accenture are also sensitive towards hiring of specially-abled people. Accenture runs one of its kind drives in the country called "Skills to Succeed'. The program facilitates the PwDs with skill and knowledge training for roles and profiles such as facility management, hospitality, business process outsourcing, and retail space. Moreover, Accenture also has a sprawling 'PWD Champions Network' for their differently-abled staff.
8. Costa Coffee
Presently, 15% of the total staff placed at the stores of Costa Coffee are differently-abled. Approximately 100 hearing and speech impaired people work with Costa Coffee in various outlets. The outlet located in Green Park, New Delhi, is exclusively run by the differently-abled workforce.
9. IBM
IBM has a special policy for the acquisition of people with disabilities. This policy spins around three As – namely, Accommodation, Accessibility, and Attitude. The company recruits such specially-skilled people in domains of programming, project management, operations, quality control, human resource, and consulting functions. It also offers India specific technologies that enhance the scope for physically disabled people, such as Hindi Speech recognition solutions.
In 2016, IBM executed a four-hour awareness generation program for senior staff to nullify insensible partiality in the system and to incorporate the need for more and more differently-abled workforces in the business.
10. Mirchi and Mime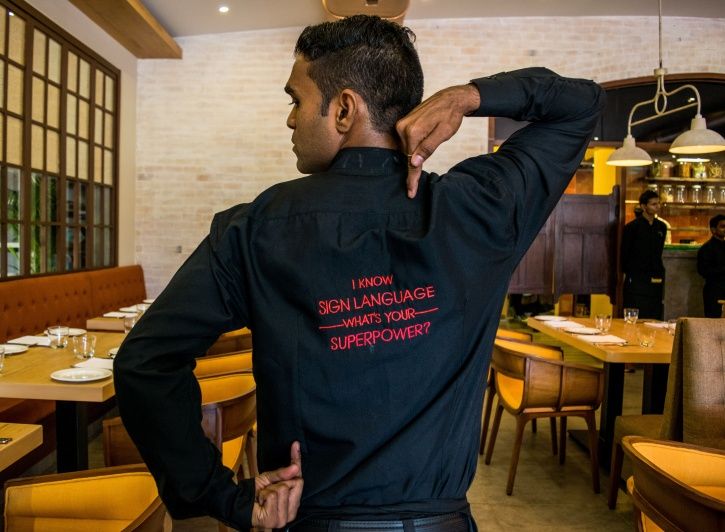 Mirchi and Mime – The Mumbai based Indian Grill and Bar mostly recruit people with hearing and speech impairments. All communications between customers and servers and other staff are conducted in sign language. They have a unique menu card. Their food menu includes pictorial representations of items with corresponding names. The bar set up is inspired by a Toronto-based pub called "Signs," which functions on the concept of the acquisition of the differently-abled folks.
11. Wipro
Wipro is known for its diligent focus on the development of a special workforce. In the organization, there are no designated roles for the differently-abled people, and they have recruited on merit basis for every role and profile. The main aim of Wipro is to establish an all-embracing framework and inclusivity for all. Wipro Ltd. also initiated Zero Project which aims at creating inclusivity within the company by creating a governing mechanism.
12. Café Coffee Day
CCD is very sensitive towards visual and hearing-impaired staff and has almost pioneered the drive of recruiting them. They are mostly engaged in brewing the coffee behind the counters, hence known as 'Silent Brewmasters.' They possess a keen sense of smell and vision and hence serve the coffees in the most visually appealing ways.
Recruiting differently-abled people is an inherent part of CCD's hiring policy. CCD has their Occupational Training College at Chikmaglur, Karnataka, to impart quality training to differently-abled people. On successful completion of their courses in hotel management and after completing this training program, these individuals are offered jobs in various CCD outlets across India. In the year 2013, CCD was awarded the honorable 'Shell Helen Keller Award' in the Role Model Companies genre for their aids in augmenting the lives of Persons with Disabilities by recruiting them into their business.
Nowadays, almost every big brand like ICICI Bank, Amazon, MakeMy Trip, Flipkart, Britannia, JP Morgan, and Big Bazaar hire differently-abled taskforce and augment the norm of inclusivity within the system. The culture is evolving slowly and fortunately moving towards a better direction.