Binging on some great luxury food, collecting beautiful souvenirs from different cities and exploring monuments and hotels, everyone does that. But don't you think we are doing it all wrong? What if we come back with an experience of learning a whole new skill and can gorge upon it for the lifetime because the skills never get withdrawn from the memories. And you don't have to just invest your time in a single campsite dedicated to a particular cause but you get to witness the entire village. This would surely be a game-changer in holidaying.
Read About: The Wise Wall Project
Where: Udaipur, Agra
Also known as the artisan's village, Shilpgram is situated 3 km west of Udaipur near the Havala village. Spread over a terrain of 70 acres of land and surrounded by the Aravalli's, lies the Rural Arts and Craft Complex of Shilpgram village. It is conceived as a living ethnographic museum which depicts the lifestyles and trends of the folk and tribal people of the West.
It also provides an opportunity to rural and urban artists to come together and interact through the process of camps and workshops. It will help them to learn from one another and enrich their skills and art forms. The Centre promotes contemporary urban ceramists, potters, designers, visual artists etc. to work with their traditional counterparts in creating works of everyday art which would then be put up for exhibition and sale for visitors. The village also organizes an arts festival in the month of February, full of fascinating crafts, arts, cultural performances and some great food. Walk in here for a unique experience of Agra.
How to get there: Road is the best option. It is located 8 km from Agra and is an 18-minute drive to Shilpgram.
Where: Odisha
Pipli is a small village located in Bhubaneshwar known for its Applique lamps. Applique craft is also known as patching cloth designs and in the local language, this handicraft is known as 'Chandua'. Applique is a technique by which various pieces of colored fabrics are applied to the surface of another foundation fabric. These colorful handmade lamps at Pipli charms up space where they are used. They are available in various shapes, designs, and bright colors between INR 100 to INR 1000, depending on the size and detailing.
How to get there: Pipli is located 31 km away from Bhubaneshwar and one can opt for a long drive of 45 minutes from Bhubaneshwar to Pipli while they enjoy the scenic view of Puri.
 Where: Tamil Nadu
Kanchipuram is primarily the city of temples, and Kanchipuram village is known for its finest silk. Kanchipuram has a thriving handloom industry and is very famous for its silk sarees. There are thousands of handloom and silk weavers that contribute in creating best silk sarees in the world and they are believed to be settled here for more than 400 years ago. The silk sarees are generally hand woven with dyed silk yarn and have designs made with Zari. Adding of Zari makes the yarn very stronger and accounts for a life-long quality of Kanchipuram silk sarees.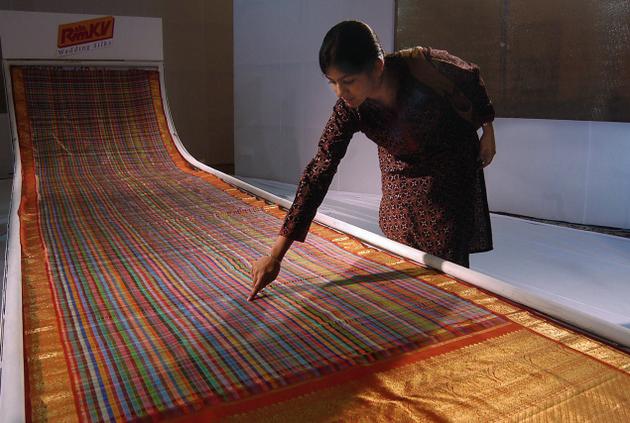 How to get there: It can either be reached by train as Kanchipuram is well connected to Chennai, Puducherry (Pondicherry), Nagaercoil and Madurai or regular buses are available from Chennai to Kanchipuram. State-owned public transport system connects Kanchipuram to many cities in and around Chennai.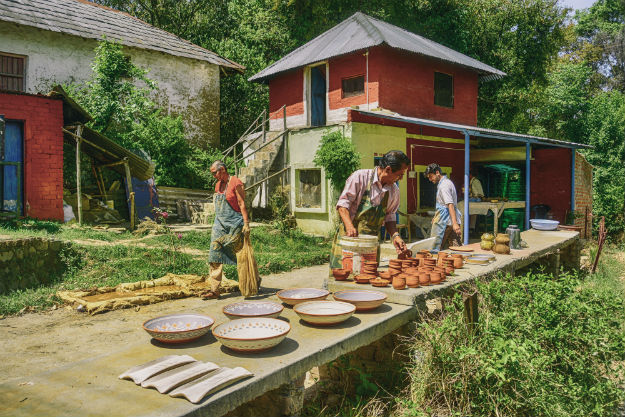 Where: Himachal Pradesh
Situated in the backdrop of Himalayas, Andretta is truly a home for artists. An Irish woman, Norah Richards laid the foundation of this popular artist village in the year 1935. After the partition of India, many artists fled from Lahore and most of them settled in Andretta, including the most prominent artist Gurucharan Singh, who is a famous potter in India. Andretta is now known for its pottery all over India.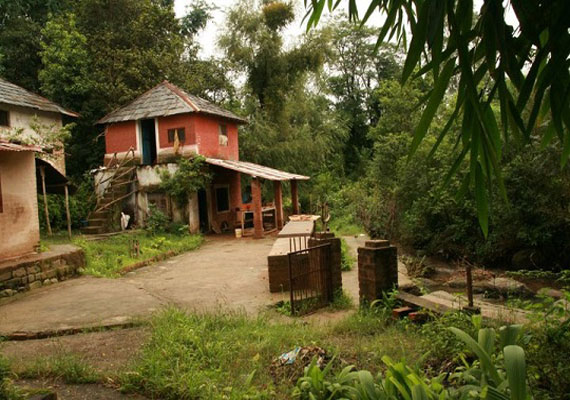 How to get there: Andretta is a 6-hour drive from Himachal Pradesh. One can sign up for a course at the Andretta Pottery and Crafts society and can stay there or else there are many comfortable homestays around to stay.
Where: Chennai
Located about 9 km from Chennai, this village is a gift to the city by 40 students of the Arts and Craft College of Madras. The artists in the village are predominantly sculptor, and sculpting and painting are two main art forms practiced in Cholamandal and they mainly use granite, wood, metals like copper and bronze for sculpting. Paintings of God and Goddesses are most famous among the artists. Sculptors and paintings range from anywhere between Rs. 3,500 to one lakh.
How to get there: Cholamandal is located 15kms from Chennai, so a bus or train would be your best option.
Where: Odisha
Located just 12 km from Puri, it is the most famous artist village where one can get a glimpse of art and craft produced here. This village known for their mastery of Patachitra looks like a living museum of paintings. This village not only produces different forms of art and handicraft but also produces its own poetry and has its own dance form. They produce different types of handicraft items like palm leaf engravings, wooden and cow-dung toys, wood carving, and tusser paintings.
How to get there: A half an hour drive from Puri to Raghurajpur is best suited to travelers.
 Where: Telangana
Located just 50 km from the state capital Hyderabad, Pochampally is famous for the beautiful art of Ikkat across India. Ikkat means to bind. It is an ancient way of creating a design by tying and dying.
Visitors to Pochampally may shop for a great variety of Ikkat fabrics, which include cotton & silk sarees, dress materials, pillow covers, ready-made garments, bed covers, and towels.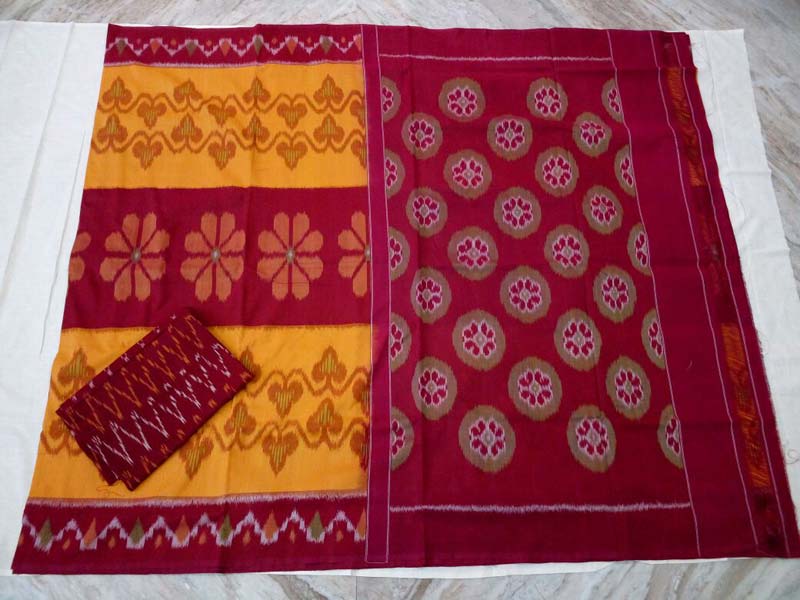 How to get there: The village can be reached by both rail and road. By road, Pochampally is 50 km away from Hyderabad.